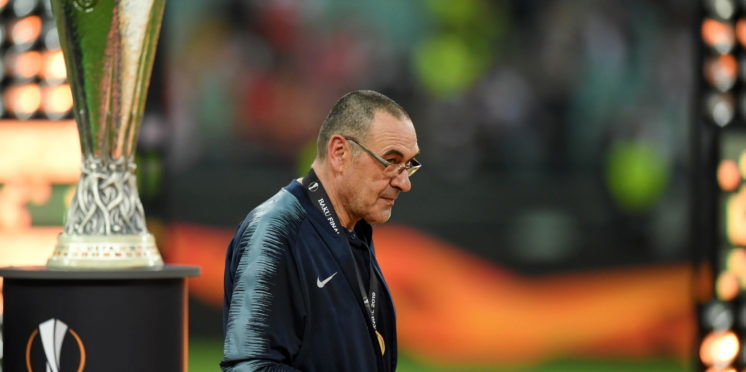 Can Sarri Keep Juventus top of the Serie A?
Maurizio Sarri's move from the Premier League back to Serie A after just one year comes with much intrigue. Juventus is preparing to undergo a dramatic shift in playing style with the departure of former manager, Massimiliano Allegri.
Juventus have won Serie A an amazing 8 years running under Massimiliano Allegri (2014-2019) and Antonio Conte (2011-2014). When Conte left Juventus in 2014 there was a less significant unknown factor with the management change than there is right now because Conte and Allegri shared such similar characteristics. Juventus' main ingredient for success during the club's amazing run has been their mental toughness.
Led from the top, Antonio Conte and Massimiliano Allegri created an identity comprised of defensive solidity through poise. They both radiated a charismatic aura of calm confidence, that filtered down throughout the team. The team's truly great players carried this passion into every match. Buffon, Chiellini, Pirlo, Bonucci, and Barzagli struck fear into the other Italian sides. They have of course also had tremendous talents that provided the attacking brilliance such as Pogba, Teves, Vidal, Dybala, Higuain, Mandzukic, and Ronaldo. But when people think of Juventus' DNA, it's of that unbreakable back line in front of Gigi Buffon with a never die attitude instilled into them by the managers. Sarri-ball is going to be a stark contrast to what Juventus supporters have become accustomed to seeing over the past decade.
Sarri has ironically become both revered and renounced for his playing style in recent years. He's held two big position jobs over the last few years, as Napoli manager from 2015-2018 and as Chelsea manager last season. Sarri enjoyed success at both these clubs. In his first season at Napoli, he rose their point total from the previous season 63 to 82, an impressive jump. He also led Napoli in a strong title race against Juventus where Napoli sat atop the table for much of the season in 2018. His time at Chelsea was much more challenging, he faced severe criticism throughout last season. However, when reflecting on his achievements at Chelsea, finishing top 4 in the Premier League, winning the Europa League, and getting to the final of the Carabao Cup, it was actually quite a good season.
So why did he receive so much scrutiny at Chelsea when on paper it looked like a standout season? The answer is clear; it is his stubbornness. Sarri-ball entails a strict 4-3-3 formation with a deep lying playmaker, wide wingers, playing quick possession with thought out precise movements. When played properly, Sarri-ball was fantastic to watch at Napoli and at times at Chelsea. But notably it has very little adaptability and is a system that needs time and patience to perfect.
This is where the dilemma begins to come in with the Sarri Juventus fit. There is a clash in playing style. The defensive style that has been played in Turin for the past decade is about to transform into Sarri-ball. How fluid is this transition going to occur when it was already demonstrated at Chelsea to be a project that takes time to perfect, and how well will this transition go over at a club that has won the league 8 years running and expects to do so and more once again? Sarri showed his animosity to change or to being challenged on his ideology so it's critical to look at Juventus' current personnel and where they will fit into his system, because they will have to.
There are some players that look like they will seamlessly fit into what he wants, others not so much. The first and most important question is where will Cristiano fit into the system? LW or CF? He has been used as a 2nd striker for some time now, playing narrow but not as the out and out number 9 so this will be a complete switch. If there is a player that can adapt to a challenge it is Ronaldo. But will these new areas maximize his strengths? I'm not so sure. The 2nd issue is the situation with Paulo Dybala.
There seems to be no position for him as a true number 10 in Sarri's 4-3-3 system. Dybala's role this coming season appears to be in flux because the only position he could possibly play is RW, but it doesn't suit his strongest characteristics much at all. Dybala was not at his best last season, but he provides irreplaceable creativity and the ability to score in big situations and would be a big loss for the team.
The easiest transitional fit Juventus will have into Sarri's system is the central midfielders. Juventus has assembled a wealth of talent in the middle of the park. The technically exceptional Pjanic is likely to play the Jorginho role, probably better than Jorginho himself plays it. The other dynamic technical midfielders will bring energy and possession of how Sarri wants with Matuidi, Can, Bentancur, and newly acquired Aaron Ramsey and Adrien Rabiot. There appears to be some fits to Sarri-ball and some questions, but in football it's not only important to have a fit technically but to also have a fit in mentality. It is going to be interesting to see how the dynamic between the leaders remaining from Juventus, Chiellini, Bonnuci, the returning Buffon, and Sarri transpires.
The summer transfer season in Serie A already has had a lot to analyze. The fantastic appointment from Inter, signing the former Juventus man himself Antonio Conte and Carlo Ancelotti in his 2nd year in charge at Napoli will provide much needed competition for this fascinating upcoming Italian season. Even considering the unfamiliar future Juventus seem to hold, Inter and Napoli will need to have a big summer in the transfer market if they truly want to contend for the title. Additionally, Juventus are sure to make some marquee signings that could prove to be the difference. Conte and Ancelotti will need to throw everything they have at Sarri to supplant the tremendously talented Serie A champions of 8 years running, Juventus.
---