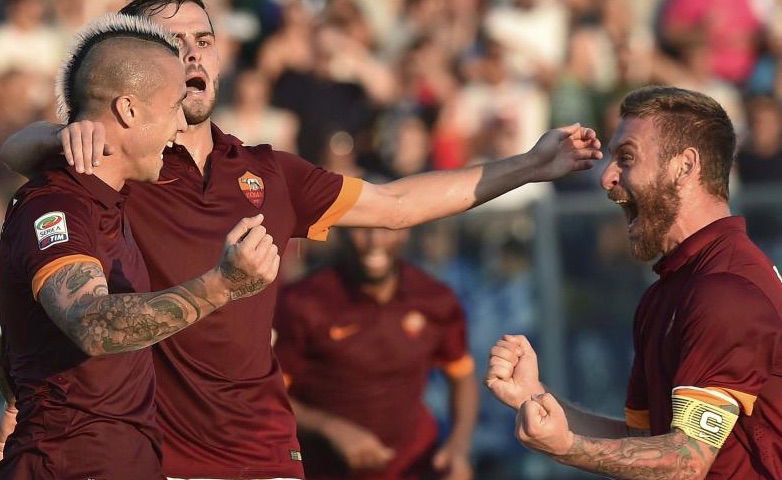 Which Players could leave Serie A during the Summer?
Throughout Italian soccer history, the league has always attracted some of the worlds biggest stars to its shores such as the likes of Diego Maradona and Ian Rush.
Italy has also produced some of the worlds best including Alessandro Del Piero and Paolo Maldini, but in recent years with the decline of the Milan sides, Italy has rather failed in the production of world class talent.  However that has changed and now their back. 
With teams such as Roma and Lazio finally looking as if they might challenge Juventus for Italian silver-wear it's natural that their best players are attracting some of Europe's biggest clubs. 
Creator of one of the all time best Italian players in Francesco Totti, Roma have been the closest to toppling Juventus from the top spot and they have a wealth of talent to thank for that.
Miralem Pjanic 
The Bosnian midfielder Miralem Pjanic has been making his name heard with his range of passing and supplying his team with assists. 
Pjanic is notably being scouted by Liverpool who will be looking to replace their key man Steven Gerrard in the summer as he heads for warmer waters.
It is suggested that Liverpool are lining up a £25 million move for the midfielder with Roma hoping for a little closer to the region of £35 million. Despite his rather large price tag Pjanic could be worth it.  At the youthful age of 24 he is yet to reach his prime, and with six assist's in the league so far this season, he has double what Steven Gerrard (0 assists) and Xabi Alonso (three assists) have combined. Pjanic also boasts a very good key passes statistic of 2.2 per game (per who scored). 
Although Pjanic may not boast fantastic goalscoring statistics, with only three this season, he may just be the perfect fit for Liverpool. The Reds may look to employ him in a deeper role whilst he supplies the flair players such as Philip Coutinho and Daniel Sturridge with the passes. 
Whatever happens at the end of the season to Miralem Pjanic, it looks as if the Bosnian star has a bright future ahead of him.
Radja Nainggolan
The next Roma player being watched by a host of top clubs is Radja Nainggolan.  Roma acquired half of the midfielder from Cagliari for £7 million, meaning the Belgium star is co-owned.
It has been suggested that Chelsea, Manchester United and Arsenal are all interested in the midfield brute after he formed an excellent partnership with Pjanic and Daniel De Rossi in the centre of Roma's midfield. 
However due to Nainggolan being co-owned, he could come at a hefty price with both Roma and Cagliari asking for £13 million for their share of the player. 
At 26 years old, the tenacious midfielder is at his prime and now would be the perfect time for a big move. If a club could negotiate a feasible price for the player, he would be able to improve any midfield. 
Mattia Perin
It may sound crazy, but one day Gianluigi Buffon will no longer be playing. When that time comes, Italy will need to find a man good enough to fill his gloves. That man could well be found at Genoa in the form of Mattia Perin. 
The 22 year old has started every game for Genoa this season and has kept six clean sheets in the process while making 78 saves. 
The six foot two long haired Italian has made his name with superb reflexes and expert shot stopping along with his authority in the box. Like most good keepers recently, Perin has been linked to Liverpool with a £10-15 million price tag being suggested.
However with the performances of Liverpool's current Number one Simon Mignolet slowly improving, it doesn't look as if the Red's will be making a move for Perin anytime soon. 
It looks as if the Italian is slowly cutting the mistakes out of his game and is improving with every performance.  Although Italian's will never want Buffon to go, the blow will be softened by the talented gloves of Mattia Perin.
Balde Keita
The final player to be mentioned is the youngest on the list. At 19 years old Balde Diao Keita has already attracted the interest of clubs like Arsenal.
Current club Lazio snatched the Spaniard from Barcelona's youth side in 2011,  and the player has quickly made his way into Lazio's first team. 
Keita prefers to ply his trade in the left wing position and has made a name for himself with his pace and dribbling ability. Amassing 28 Serie A appearances so far, he has pitched in with five goals. 
Despite his poor goal return, Keita is constantly improving, and at 19 years of age the teenager has his whole career ahead of him. 
It's no doubt that one day Keita will move on to a bigger club.  However with Lazio slapping a £20 million price-tag on the forward, potential suitors may be put off from a move until he has a gained a little more experience.
Despite only four players being mentioned, Italy is producing a huge amount of talented players including Paulo Dybala, who's name is constantly being thrown around with Europes top clubs. 
Although Serie A may lose its best players who to other European clubs, it does look like a positive time for Italy's top league and could mark a return for the good old days. 
---